This Wednesday is my wife's 24th birthday, we are having a big garden party hence all the work that I have been putting in to getting it all sorted . This past week me and my chum Dave made all the tip runs we had to do to get rid of about 2 tons worth of rubbish and also stopped of at Asda and picked up a nice garden furniture set this one infact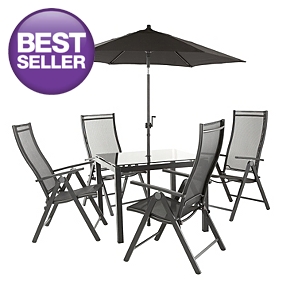 we also only have one bit left to do and that is make another flower bed opposite the one we already have and that will be that.
In other news yesterday was also my dads birthday along with my niece Megan so happy birthday to both of you , hope you both had a good day .
I'd to recommend that you all watch the TV series Lead Balloon staring Jack Dee as failing comedian Rick Spleen its a very well done show and you have to feel for him as everything he tries falls apart week after week , make sure you catch the last of the current series this Tuesday 10 pm BBC 2