In the first of a special 4 part interview with the guys from the
Square Ball Podcast/Fanzine
where better to start than with the anchorman
Dan Moylan
so in a treat for fans of the mighty whites lets get down to it
Ross - Hey Dan lets start with a easy one how did the idea to do the magazine come about ?
Dan - For a long time - since the mid-to-late-90s - there had been a chat
forum loosely attached to The Square Ball magazine; the two were run
separately, but the magazine took a lot of its content from the forum. I
took on the administration of the forum in early 2008 and moved it to
2009, it was clear the magazine was in steep decline; issues were
sporadic and much of the content was simply cut and pasted from the
forum. The forum community expressed a desire to take it on and produce
original, fresh content. Michael and I adopted loose roles as joint
editors, dividing up responsibility between us: although we both edited
in the tradition sense, Michael fell into the admin and finance side of
things and I did the design side. Meanwhile, Oddy took care of the print
production side of things, because that's his professional background,
while also trying to track down the mag's old editor, Ian Dobson, to
seek his blessing for us to take it on. We're still looking for Ian!
People from the forum started writing for us and it has grown ever
since. From a personal point of view, I knew only the very basics about
layout and graphic design when I took this on, so I've been learning as
I've gone along and this is probably reflected in the appearance of the
mag, which looked very amateurish when we started, but has improved
greatly ever since.
The motivation behind taking over the magazine was probably Ken Bates'
colourful programme notes and the club's gradual takeover of all aspects
of its media output. It was clear there was no independent voice for the
fans, in the written sense at least, so we wanted to make sure TSB
continued as a medium for fans to express themselves. Obviously,
messageboards and internet fourms gives instant gratification where that
is concerned, but we think there's still an appetite for print media at
football matches. The matchday programme can be a bit dry at times, so
what else are you going to read at half time? We were adamant that we
wanted it to remain £1, even when we went to 48-page full colour this
season, so it always represented a great deal versus a £3 programme. Not
that we're trying to compete you understand, Ken...
Ross - Ken wouldn't like the competition as we all know , along the same kind of lines how did you get into the world of podcasting ?
Dan - I was working part-time on commercial radio at the time when we
started the podcast in January 2010, so it seemed like a natural
extension to the magazine. I'd always wanted to talk about Leeds United
on the radio and podcasting is as good as doing that - it's great fun.
At that time I'd only met Michael twice before, playing in a couple of
football matches for TSB against Waccoe.com several years previously. We
were actually running the magazine on a virtual basis, communicating via
email. We'd chucked around the idea of a podcast a couple of times, so
we met up for a beer and a chat just before Christmas last year and
decided to push ahead with it, most likely for the 2010-11 season. We
realised we needed more people to make it work, so we invited
Moscowhite, who was doing a lot of writing for the magazine, and Oddy,
who was doing the production, to the pub. Despite having never all sat
in room together before, we all hit it off and had a funny evening. We
thought it was probably worth giving it a shot in the studio - a vastly
different environment to the pub - to see if it would work. Ultimately,
we decided to jump in at the deep end and just go for it. With the new
year and the Manyoo FA Cup game on the horizon it seemed as good a time
as any. (We couldn't have chosen a better game to start with!) It was
difficult at first - the first recording took about 3-and-a-half hours -
but we got to know each other, got used to the mics and the studio, grew
in confidence and here we are a year later.
Why Not Visit Beeston
Ross - And after a year it hasn't lost any spark I love the way you all play off each other , talking about the show what kind of download numbers does the podcast achieve ?
Dan - The 18 podcasts we've done so far have been downloaded a total of
25,000 times, so they're averaging out at around 1,400 each. In the very
first fortnight we did 200 downloads, which was actually more than we
were expecting - we genuinely had no idea how it was going to be
received - but we've now reached a point where we're doing 1,000
downloads in the first week of each podcast being released, and then
there's a steady trickle thereafter. We're all genuinely flattered and
humbled by the number of people downloading it, from allsorts of far
flung places around the world. This is going to sound cheesy, but it
gives you a great feeling to know you're doing a little bit to help our
fans around the UK and around the world to feel like they're a part of it.
Ross - with myself living in Portsmouth the show gives me the sense that im part of the Leeds United community , anyway on to some football what was the first Leeds game you attended and what memories do you have from that day ?
Dan - I can't remember my first game as my parents were taking me all the
time from being about 2 or 3 years old, but I have clear memories of
running up and down the gangway at the back of the old Lowfields Road
stand and in my mind I was clutching a huge Wagon Wheel. The earliest
match I can remember was the opening day of the 1982-83 season, just
after we'd been relegated, and we were away to Grimsby on a sunny August
day. I was only 4 at the time, but I recall there was trouble and I can
remember peering over the edge of Grimsby's main stand, which oddly
doesn't go the full length of the pitch, and seeing a bloke covered
head-to-toe in blood. I've no idea which team he supported or what had
happened, but that's my earliest memory from football. The game finished
1-1, with Terry Connor scoring our goal.
Erik Bakke
Ross - Even after that you still remembered the goal scorer and final score , for me it was Leeds vs West Ham at Elland Road Erik Bakke scored and we won 1-0 i also remember someone throwing a bottle of coke at Lee Bowyer (Good Times) as he'd just signed for them . Anyway After the recent refusal of Bradley Johnson to sign a new contract , do you think it's down to the club being tight with new offers or do you think it's the players demands that were to outrageous?
Dan - Without being a fly on the wall it's hard to know what's happened
with Johnson. You get the sense that he probably rates himself highly,
and we all know what agents are like these days, but I think it's fair
comment to say that Leeds United aren't as generous as they used to be
where contracts are concerned. So, the truth probably lies somewhere in
the middle. Regardless of what the truth actually is, it's safe to say
that Bradley would miss Leeds United more than Leeds United would miss
Bradley. Good luck to him if he thinks he can get himself a lucrative
deal elsewhere or if maybe have a shot in the Premier League, but from
the team's point of view I think he's very replaceable.
Ross - I couldn't agree more with that , following on from that do you feel there is a danger of this becoming a nasty trend at Leeds ? , first beckford now Johnson , with new contracts for becchio and kilkenny to be sorted it's a frightening thought that two of our genuine best players could also go the same way.
Kilkenny beats Scum's Anderson
Dan - I think we have to be careful not to get whipped up into a panic over
out-of-contract players. The Bosman ruling and Sky's financial clout
have dramatically changed the footballing landscape; players and agents
have the power now, and agents are driven by money. It's always sad to
see players leaving, especially talented ones, but the days of a player
having a club for life have gone. If they seek pastures new, there will
always be others to step into their shoes. While I would definitely like
to see Becchio sign a new deal, I'm not sure we should be bending over
backwards to retain players if what they're asking is beyond sensible.
I'm no fan of Mr Bates, but it's entirely correct that the club should
stick within its budget. Whether the club's budget is actually enough is
a different matter, and that poses questions about the resources of our
owner(s) and whether we can continue moving forward. Without knowing how
far apart the club and the players are, it's hard to comment accurately.
Ross - Very true , what are your thoughts on the signings made by Simon Grayson so far ? , he seems to have a knack of finding slow lumbering centrebacks.
Dan - In a way, my answer is going to be an extension of the previous
question. Where some signings are concerned, it's hard to know whether
Simon Grayson is buying badly or whether he's working under financial
constraints that mean he's making the best of the resources he's got.
There's also a question of just how much influence Glynn Williams has
over player recruitment, as he seemed to have a big say when Wise and
then McAllister were in charge. The big question mark for me has been
the mental strength of the players we've recruited and persisted with.
We desperately need some leaders. The addition of Andy O'Brien has been
an important one as he's added experience and leadership to the camp;
him and Bruce are looking solid. We still need a Shaun Derry type leader
or two in the midfield, which may happen with some midfield departures
looking likely. Elsewhere, I think Paynter and McCormack, especially,
will prove to be astute signings, with plenty to come from the latter.
I'm confident that Grayson knows where we need to strengthen and he's
aiming towards that. He's probably done enough to earn our patience!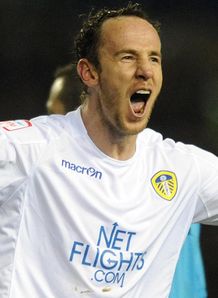 Andy O'B
Ross - I couldn't be happier with SG to be honest , also along those same lines what are your opinions on the amount of loan signings we make?
Dan - Loans don't really get the pulse racing, but they're also a major
part of the game today, especially with the transfer windows in place.
They also come at a Leeds United-friendly price! I guess the beauty of
loans is that you can always send them back if they don't work out. I
think we're just going to have to get used to loans as Simon Grayson
seems to like them and they also give us the chance to evolve the squad
without shelling out loads of cash on permanent signings. O'Brien looks
like a good one and McCartney has been alright, but last season seemed
to see a lot more 'misses' than 'hits'.
Ross - True this seasons loanee's are a improvement over last season , The draw for the fa cup 3rd round has just been made and we are away at arsenal this season , after the heroics of beating scum last year can we do it again?
Beckford after our winner at Old Trafford
Dan - It's a tough one, but you never know! We said the same about scum
last year and that worked out alright. In many ways it's a perfect draw,
for the finances, the players and the fans; it reminds us of where we
want to be and what we need to do to be playing in those places every
week. We should lose, and we probably will, but with Leeds United
there's that magical performance that is unleashed every now and then...
Either way, it'll be another fun, noisy, boozy away day!
Ross - I'm almost certain the emeraites stadium hasnt ever got close to the volume it will be come 3rd day , we've started this season fairly well and are currently 6 unbeaten what are your hopes for final league position this season ?
Dan - It's too hard to say with any conviction because The Championship is
wildly unpredictable. We're capable of anything from 3rd to 20th,
depending on what sort of run we go on after Christmas. The signs are
good that we're achieving some consistency now and on the evidence and
results so far we should be looking at top 10 and aiming for a play off
place. From there, who knows?! There's the possibility of another
crushing playoff defeat, or maybe, just maybe...
The Blue Vomit Kit
Ross - i don't think i could handle another play-off game ever again , which has been the worst kit we've had on recent memory ? for me it's got to be that awful green and blue striped shirt !
Dan - I really liked the green and blue number! It's not traditional
"Leeds" but it was something different and Asics seemed to knock out a
few decent shirts. They were better than those horrendous Admiral ones
we were lumbered with after we won the league; the blue "vomit" kit
was... interesting. Although the dark blue pinstriped Nike one was
pretty smart, it'll always remind me of our relegation, so I've never
been keen on that. We've had some cheap looking kits since we've been
out of the Premier League; the Macron one with the blue panels was
hardly a high water mark, although they've really upped their game with
this season's efforts. After this season's stylish and understated home
shirt they don't fly off in the other direction next time and get their
blue and yellow crayons out and go crazy.
This seasons Kit
Ross - This's seasons is a very nice strip i agree , so every one has there own opinion but who's really to blame Risdsle or O'Leary ?
Dan - Ridsdale and O'Leary - the perfect storm. It's probably fair to say
that trusting the running of your club to two egomaniacs wasn't a recipe
for success. O'Leary was blind to the deficiencies of his squad and he
should have been in more control of player recruitment. He just seemed
to want to fill his squad with a scattergun approach when, for example,
he really should have made a new left back his number one priority.
Ridsdale was guilty of allowing himself to run away with the idea of
Leeds United being the very best. He was responsible for all the huge
contracts that extended beyond the first team, all the way down to youth
level. Ridsdale seems to have shouldered the blame for the PLC board,
which is unfair, but if you are prepared to put yourself in the
limelight like that - he even posed in the squad photos, for crying out
loud! - then you have to be prepared to accept the flak when it starts
to fly: you live and die by the same sword. O'Leary should have been
controlled by Ridsdale and he wasn't; Ridsdale should have been
controlled by the PLC board and he wasn't. The whole thing was rotten to
the core.
Ross - thanks for all the honest and great answers finally is there anything you would like to plug ?
Dan - I'd love to plug The Square Ball magazine. By the fans, for the
fans; it's published 11 times a season, costs only £1 and can be bought
in paper format around the ground at Leeds United home matches or online
via
http://www.thesquareball.net/shop
either in paper or PDF format.
Also you can hear the accompanying podcast every fortnight or so and
that can be subscribed to and downloaded via iTunes or via
http://www.thesquareball.net/podcast
.
You can also find us at:
Web:
www.thesquareball.net
Facebook: facebook.com/thesquareball
Twitter: twitter.com/thesquareball
I'd like to thank Dan for agreeing to take part in this interview with me i hope all the Whites fans out there get as much enjoyment out of reading it as i did . MOT !